SIOUX CITY -- Patients seeking cannabis to ease symptoms associated with cancer, multiple sclerosis, Parkinson's disease and other qualifying medical conditions can now legally purchase creams, tinctures and capsules in Sioux City.
MedPharm Iowa opened its medical marijuana dispensary at 5700 Sunnybrook Drive on Dec. 1. It's one of five state-licensed dispensaries now operating in Iowa and one of two owned by MedPharm Iowa. Dispensaries are also located in Council Bluffs, Windsor Heights, Waterloo and Davenport.
In May 2014, then-Gov. Terry Branstad signed the Medical Cannabidiol Act, which allowed the possession of CBD oil with a neurologist's recommendation for the treatment of intractable epilepsy. The law came under fire because it gave patients no legal way of obtaining CBD oil. Then in May 2017, Branstad authorized the expanded Medical Cannabidiol Act, which paved the way for the legal growing and dispensing of medical marijuana in the state and expanded the list of medical conditions covered by the law.
Cannabidiol is a chemical found in cannabis plants that is used for products that help treat medical conditions. Under Iowa law, medical cannabis cannot contain more than 3 percent of tetrahydrocannabinol (THC), which is the element in marijuana that produces a high.
"Patients who need THC, for whatever their conditions or symptoms, will still be able to find relief from our higher THC formulation products," said Stephen Wilson, head of dispensary operations for MedPharm Iowa.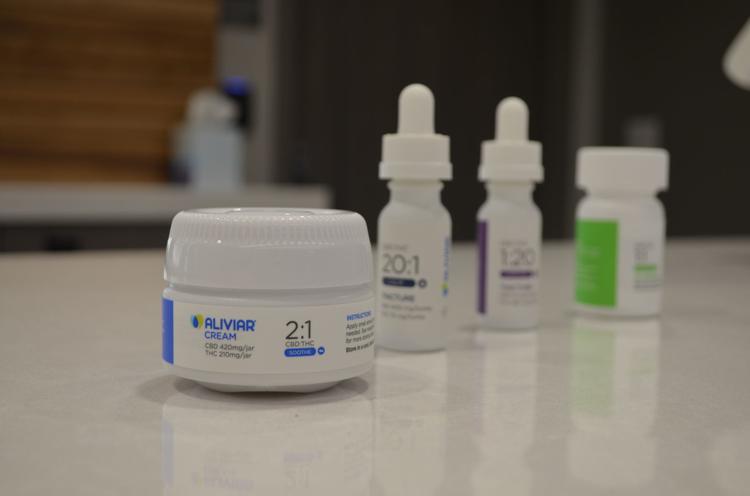 Located at the edge of a strip mall in Morningside, MedPharm Iowa is monitored 24-7 by video surveillance and staffed by a security guard. The space, which resembles an Apple store, is bright and contemporary-looking. On the other side of the front desk, patients meet with a consultant at stations equipped with tablets. Using MedPharm's app, patients learn about MedPharm Iowa's production process from seed to sale and determine which product will best meet their needs. The dispensary sells the Aliviar brand of medical cannabis products. Aliviar offers four formulations dubbed, "Soothe," "Calm," "Harmony" and "Comfort." The products are grown, formulated and packaged at a location in Des Moines.
Once they've chosen a formulation of medical cannabis to purchase, patients move to a counter at the back of the dispensary, where the products are stored in a locked cabinet. Before receiving a product, Wilson said labels containing the patient's ID and transaction number are affixed to the packaging, which is tamper-resistant.
In order to buy cannabis, Iowans have to have a qualifying medical condition that has been certified by a physician or be an approved caregiver of a patient with a qualifying condition. Patients or caregivers must submit an application to the Iowa Department of Public Health and, if approved, obtain a cannabidiol registration card from the Iowa Department of Transportation before they can make a purchase at a dispensary.
"Any MD or DO will be able to certify. Unfortunately, we've had some trouble with physicians in the Siouxland area. I don't know if that's because there's a lack of information," Wilson said. "Their role is to simply certify that patients have this condition. We encourage open communication between patients and physicians, but physicians are not required to recommend products."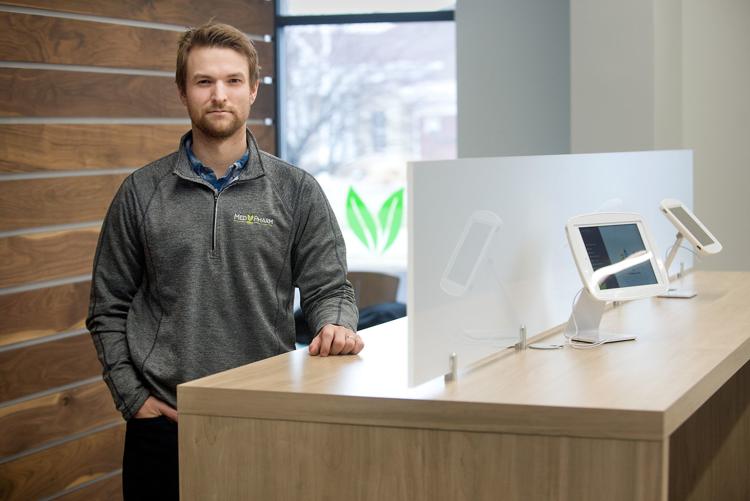 The products, which are not covered by private health insurance, Medicare or Medicaid, vary in price, according to Wilson, who said tinctures could range from $70 to $130, while capsules could run $30 to $80 depending on the formulation and dosage.
"We're not allowed to sell any more than a 90-day supply," he said. "That is completely up to us as a dispensary as to what constitutes a 90-day supply. It will vary from patient to patient."
This year, Wilson said MedPharm Iowa will advocate for the Legislature to add more medical conditions to the state's program, including post-traumatic stress disorder and fibromyalgia. He said dispensaries are also pushing for nurse practitioners and physician assistants to be able to certify qualifying conditions, the THC cap to be removed and additional forms of medical cannabis consumption to be allowed under Iowa law.
"Vaporization is a big form that we're pushing for. Vaporization doesn't make sense without the THC cap being removed," he said. "We're advocating that the 3 percent cap gets removed. That will allow us to formulate and produce our products much more efficiently, which equates to cheaper costs to the patients involved."