DAKOTA DUNES -- Less than seven hours after giving birth to her son, Brooks, Kelsey Beiermann woke up her husband, Chase, who was sound asleep in their hospital room, and asked him if he had called the real estate agent.
There was a house in The Prairie neighborhood in Dakota Dunes that Kelsey really wanted to look at. The couple, which was living in a townhouse at the time, had been searching for a house for about a year.
"I just wanted to bring our baby to a home," Kelsey said as she stood in a light and airy open concept kitchen, living room and dining area holding a babbling Brooks, now 1.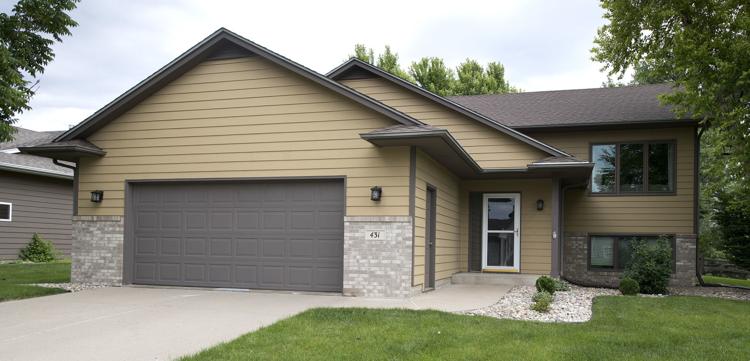 A week after Brooks' birth, the Beiermanns looked at that 2,200-square-foot house that Kelsey saw so much potential in. They put an offer in on the house, which was accepted just two hours later, and, over the past year, have been working hard to put their own personal touches on it.
"It was making her happy," Chase said of the purchase. "She has the eye for this stuff."
Kelsey, a brand stylist, prefers cool tones, so one of the first changes the couple made was repainting the warm walls a light gray and the ceilings and oak trim white. 
"The walls and the ceilings everywhere were all one color. I felt like we were kind of in a box," said Kelsey, who wanted her home to have a classic, yet modern look. "It's crazy how little things like paint can make such a big impact and such a big difference. I think we've totally transformed this floor and we haven't done any construction."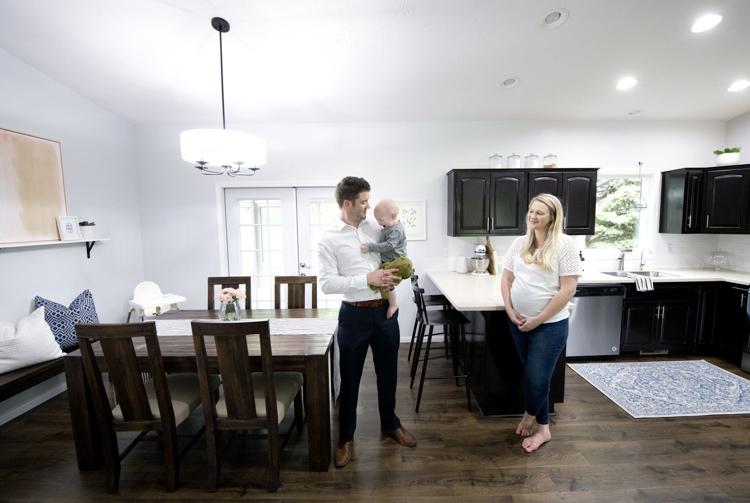 Both Kelsey and Chase agree that their favorite room in the house is the open kitchen, living room and dining area. It's also where the young family, due to expand in the coming months with the birth of the Beiermanns' second child, spends most of its time.
"I like how Brooks can be playing in the living room with his toys while we're cooking," Kelsey said.
The Beiermanns painted the backsplash in their kitchen to give it a new look that adheres to Kelsey's style. They switched out cabinet handles and plan to replace carpeting in the bedrooms next. Kelsey said they have learned a lot in the past year with all the DYI, "do-it-yourself," projects they've undertaken with the help of Pinterest and YouTube tutorials.
"It was overwhelming at first, because I feel like we tried to do everything so fast. Then, we really realized if we go room by room, it seems more manageable," she said.
Kitchen, living room, dining area
The Beiermanns bought a piece of wood, painted it white and selected black brackets with which to hang it. The shelf serves as a focal point in their dining room. A black-and-white photo of Kelsey's late grandparents eating with friends, which sits on the shelf, has become a conversation piece.
"It's really special to me because everyone looks so happy and it's just a candid, in-the-moment photo," said Kelsey, who likes to frame and display a mix of words, shapes, art and photography of people and animals.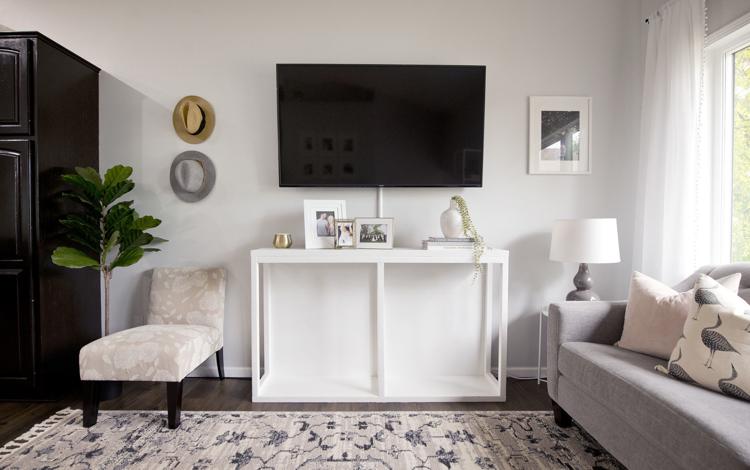 When Kelsey is struggling with decorating, she said she reaches out to good friend Nicole Hospers, who owns Thompson Interior Design in Sioux City. Kelsey said she bought three different rugs for the living room before Hospers helped her find the "perfect" rug.
You have free articles remaining.
"I am obsessed with this one," Kelsey said of the neutral rug with tassels and a dark blue pattern. "I was trying to bring a little bit more color into our house without it being overwhelming. Blue is kind of a neutral to me."
Kelsey said she wanted her son to have a "learning room" that he could grow into, rather than a baby nursery.
An abacus sits on a small pint-sized table and chair set underneath a large window, while a globe rests on a white shelving unit. A wall hanging that features insects is just one of the little touches of nature that Brooks can explore when he gets older. A blanket printed with dinosaurs is draped across a tan armchair, while a toy camera, fish ornament and framed leaf hang from a coat rack.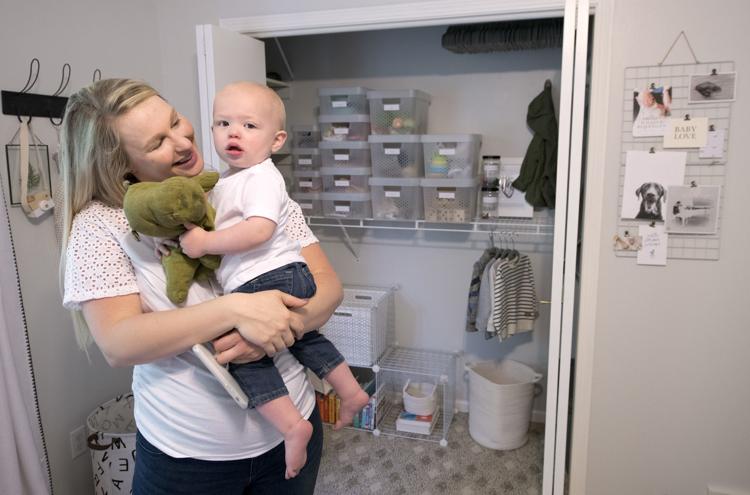 Kelsey said Chase likes to hunt and fish, so they tried to incorporate some of those elements in the decor alongside Brooks' mementos -- a onesie he wore for his one-month pictures and a framed music sheet of the Beatles song "Blackbird."
"It was just a song that I played when I was pregnant with him," Kelsey said. "We play it before he goes to bed, too."
Brooks' closet is just as immaculate as the rest of his room and Kelsey has decorated that as well. Built-in shelves on the side of the closet display a ceramic snail, baby books and a framed drawing of a fish.
"I'm super into organizing, so he has all his different bins of toys labeled," Kelsey said. "I like my closets to look nice and neat, so I even kind of decorate them."
Kelsey likes to add tiny pops of color to her neutrals, which she said makes it easy to change home accents as the seasons change.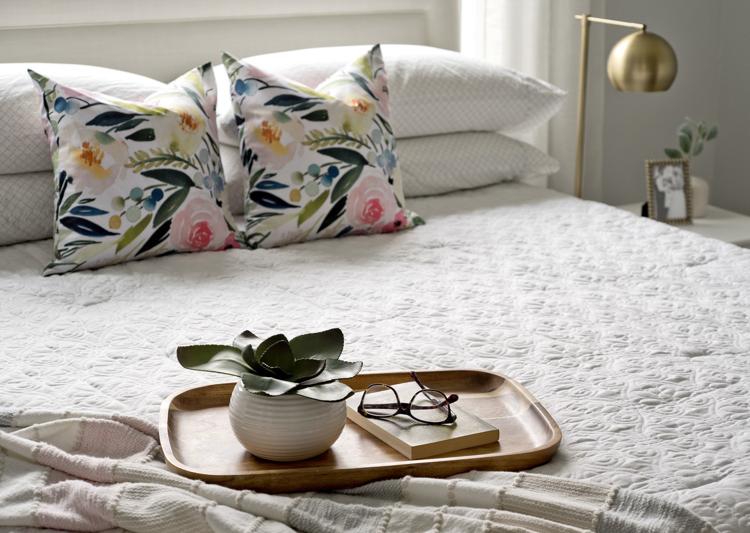 Amid light gray walls, white furniture and white bedding, two centrally placed floral pillows stand out in the master bedroom.
"I think sometimes people are scared of white, but everything I get, I make sure it's able to be washed or cleaned," Kelsey said. "I like my big statement pieces, or my more expensive pieces, to be neutral and then I can easily switch out color for the seasons or holidays with little accent things."
Chase said he and his wife have "learned a lot of things" over the past year as far as DIY projects go.
"We've been kind of looking online and figuring stuff out," he said.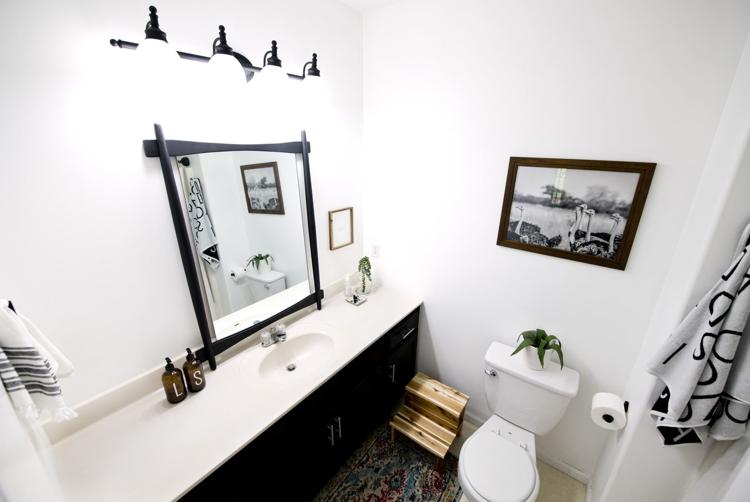 The Beiermanns updated a main floor bathroom by spray painting a silver light fixture black and replacing the glass globes to give it a modern look.
"It was just inexpensive rather than buying a whole new light fixture and it really updated it from what it was," Kelsey said. "Just little things like that just totally change the whole room."