WEST OKOBOJI, Iowa | Larry and Sue Wiley, of Palo, Iowa, pulled their motor home onto Three Cross Road in West Okoboji on a Sunday morning in July. With the sun at their backs, the Wileys participated in the Summer Outdoor Worship held at First Lutheran Church, a rite of spring and summer since 1949.
There were at least 200 vehicles on the site, adding color and dimension to an otherwise dry pasture north of the spectacular First Lutheran Church.
"There are at least two people in every vehicle, I think," Larry Wiley said. "This is quite a congregation!"
The Rev. Perry Aalgaard, who one week earlier was installed as senior pastor at First Lutheran Church, stood on the second floor of the altar/stage/building constructed on the west side of the drive-in worship grounds and asked, "How many of you are going out on the lake today?"
A chorus honking horns from compact cars, motorcycles, fifth-wheels, pickup trucks and cars roared in the affirmative.
"Somebody sure had a great idea with this," said Sue Wiley, noting how she and Larry had never attended such a service before.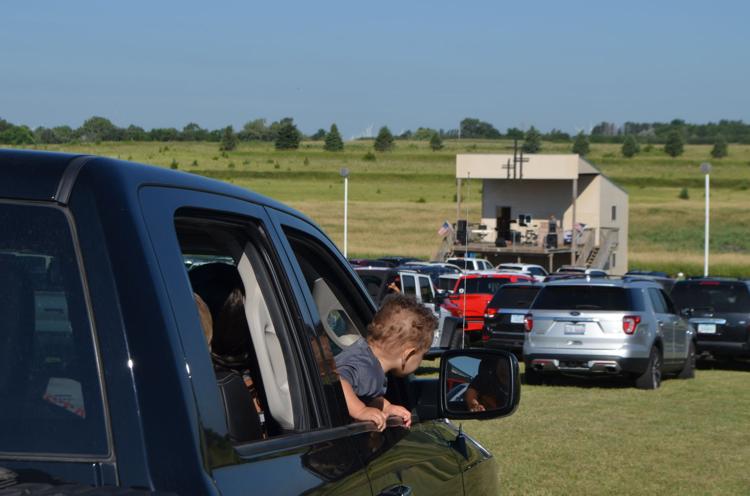 In the Iowa Great Lakes, though, this embracing of Mother Nature on Sunday morning is almost second nature, a practice dating back to May 22, 1949, when this ministry began at the Lakeland Drive-In Theatre one mile north of Milford, Iowa. It was considered the first outdoor worship service at a drive-in theater in the U.S.
Services continue to be held here at 8:30 a.m. each Sunday between Memorial Day and Labor Day. Vacationers come in droves, as do the locals, many who simply prefer being outdoors and/or in the comfort of their own vehicle for worship, tuning into FM 96.3 to hear Aalgaard's message, scripture and the talents of local musicians, such as Landon and Madeline Greve, children of Bret and Kathy Greve, who traveled 12 miles east from Lake Park, Iowa, to sing "Father In Prayer I'm Coming Now to Thee" with the congregation.
When the children finished their son, hundreds of motorists honked their approval.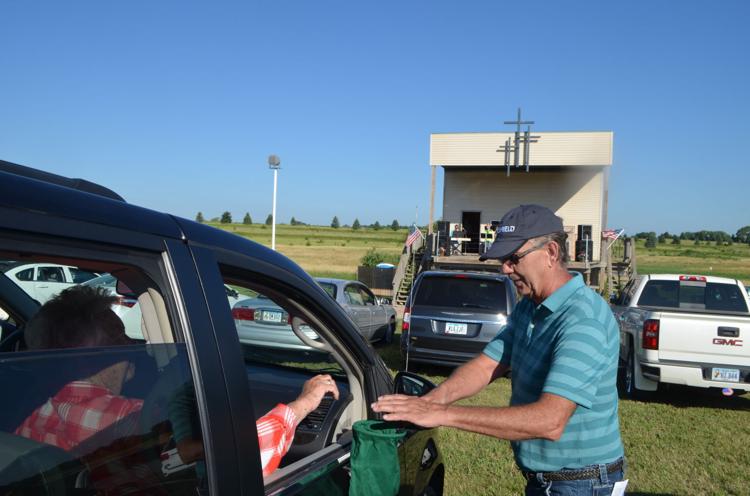 "This began when a group of guys in the church felt we needed to have something to reach out to the vacationing crowd," Aalgaard said. "They went to the local drive-in theater and basically said, 'Hey, if we pick up the trash at the drive-in from the Saturday night before, can we have a church service there on Sunday morning?'"
The drive-in owner, according to Aalgaard, didn't have to think about the proposition long.
"I think it began with 20-some cars," Aalgaard said. "I'm not absolutely sure when it took off."
It certainly has in the decade since First Lutheran set up "shop" along Highway 86 at West Okoboji. Aalgaard said the Outdoor Worship Service attracts, on average, some 180 vehicles.
"When the church purchased this land, they used the drive-in set-up on the sloping hill and it's just like a theater," Aalgaard said.
The challenges for a church leader include the elements, such as wind, cold, rain and lightning. In his time as pastor, Aalgaard recalls just one drive-in worship being cancelled due to lightning.
"Papers do blow around," he continued. "But we use rocks and clips and books. We've had mornings where it mists and that makes things difficult."
On this particular Sunday in July, there were no weather issues as light winds and bright sunshine complemented temperatures in the mid-70s. A few people walked their pets, nearly a dozen or so worshipers sat at picnic tables and listed to the loud-speaker system, while the rest stayed in their vehicle and tuned into the worship that, on this day, featured a message from guest Lynn Egesdal.
"The new speakers this year have made a world of difference," said Aalgaard, who hustled from the drive-in service to the worship service inside the church, which began at 9:30 a.m.
As Aalgaard greeted parishioners inside the church, ushers like Duane Boeve, of Milford, waved motorists in an orderly fashion as they left the church grounds, one flock going out into the world while another reported to the church.
On this day, it appeared that no motorist needed a battery boost as a result of leaving the radio on for 45 minutes, a happenstance that isn't uncommon.
The Wileys started their vehicle and set out to enjoy their day in the Iowa Great Lakes, capitalizing on the gorgeous resort weather that accompanied them on a trip from eastern Iowa for a wedding. They couldn't get over the size of the crowd departing the drive-in worship.
"If this is what it takes to get people to hear the word of God, it's working," Sue Wiley said.