SIOUX CITY -- Grace Hoak huddled with teammates, creating a document to recruit more airport TSA screeners.
Across the room, Trent Mills talked strategy when it came to attracting and retaining medical personnel in a highly competitive market.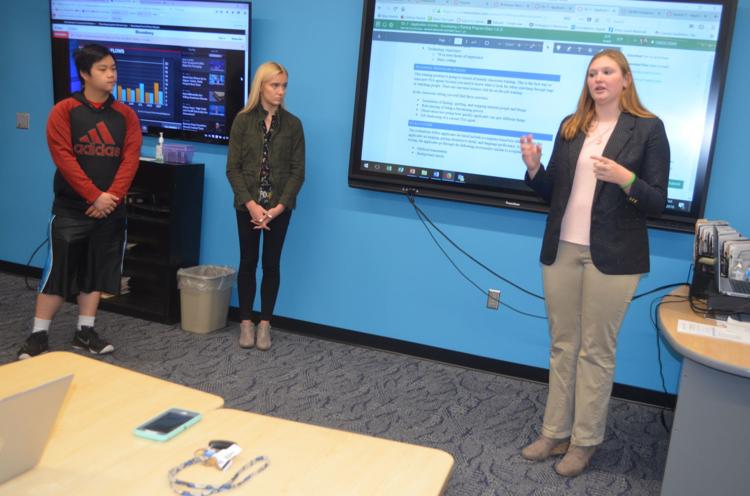 Are Mills and Hoak a pair of hotshot human resources professionals at a job fair? No, both are East High School seniors participating in human resource management class at the Sioux City Career Academy.
Their task is to create a hypothetical training manual and shoot video for a hands-on class assignment, to be completed in less than a week.
Mills, 17, said he was more than up to the challenge. 
"I want a career in business," he said. "Working with people and working with numbers have always been my thing."
This is why Mills has taken three accounting classes over the past three years. It is also why he's saving all of the money he has earned while working at Hy-Vee.
"We need to know about money management as early as possible," he said. "I'll be in college and on my own soon. If I don't learn how to take care of myself financially, I'll be playing catch-up for the rest of my life."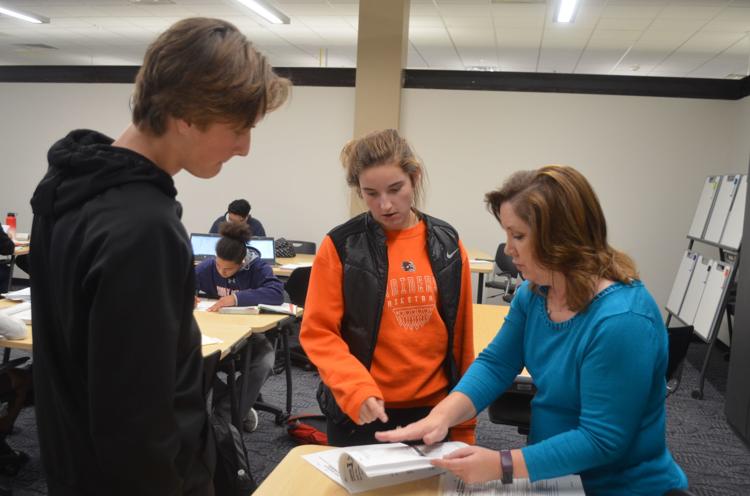 Mills credited his stepdad, who works in the financial field, for setting him straight when it comes to money matters. 
Similarly, Hoak, 17, said her family gave her some financial independence when she spent time in Sioux City's sister city of Yamanashi City, Japan, a few years ago.
"My parents gave me a debit card with the understanding that I had to personally pay back everything I spent," she said. "You better believe I was very careful with my spending habits."
Instructor Chris Dicus said business-minded students like Hoak and Mills are becoming increasingly common.
"High school kids aren't usually saddled with debt but as soon as they graduate from college, they may be hundreds of thousands of dollars in the hole," she said. "If they're smart, the students learn about money management as early as possible."
Luckily, many high school students are taking financial literacy classes taught by Cody Jaminet.
Utilizing the teachings of financial personality and author Dave Ramsey ("Smart Money, Smart Kids: Raising the Next Generation to Win with Money"), he teaches students the importance of saving, managing a budget and preparing for retirement.
Wait, do high school kids really need to worry about retirement? Jaminet thinks so.
"I stress over and over again that it is never too soon to become financially literate," he said.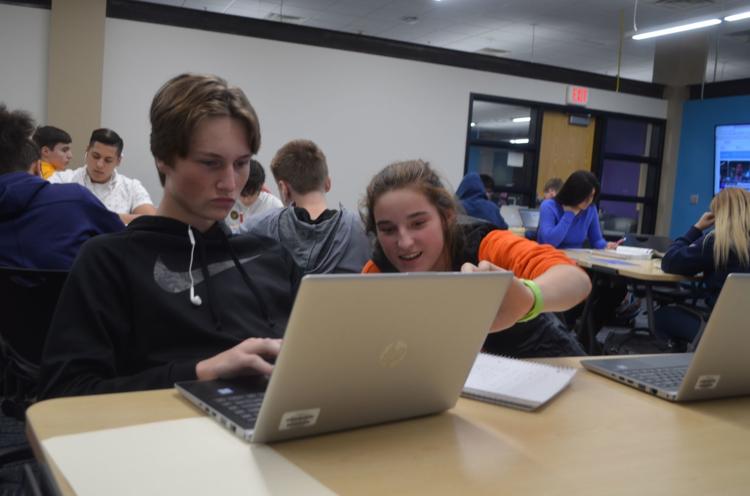 By the midway point of the semester, students seem to be on the same page as Jaminet.
"I see it every time I teach this class," he explained. "Kids may feel a bit overwhelmed at first. Then, the light bulb comes on and they realizes this class is hitting close to home."
Indeed, Jaminet gets praise from parents, who thank him for helping their kids become better savers.
"Parents always want to teach their children about money matters but they may not have the time," he said. "Financial literacy classes give students the tool that they'll need as adults."
To be fair, Jaminet's students may turn out to be more money-savvy than their parents, right?
"That's absolutely correct," he said. "If there were financial literacy classes when I was younger, I would've made a few different choices in life.
"Who knows? Maybe my students can teach their folks a thing or two when it comes to money," Jaminet said with a smile.
Already putting away money for college, Trent Mills is encouraging friends to become more money-minded. 
"High school is the perfect time to start planning," he said. "You'll be out in the real world before you know it."
Grace Hoak is actually already a bit of a self-starter. For the past few summers, she has had her very own business.
"I call it Hoak H2O," she explained. "I teach young children how to swim."
Does Hoak have aspirations of becoming a swimming school tycoon?
"You never know what the future has in store for you," she said. "You just never know."