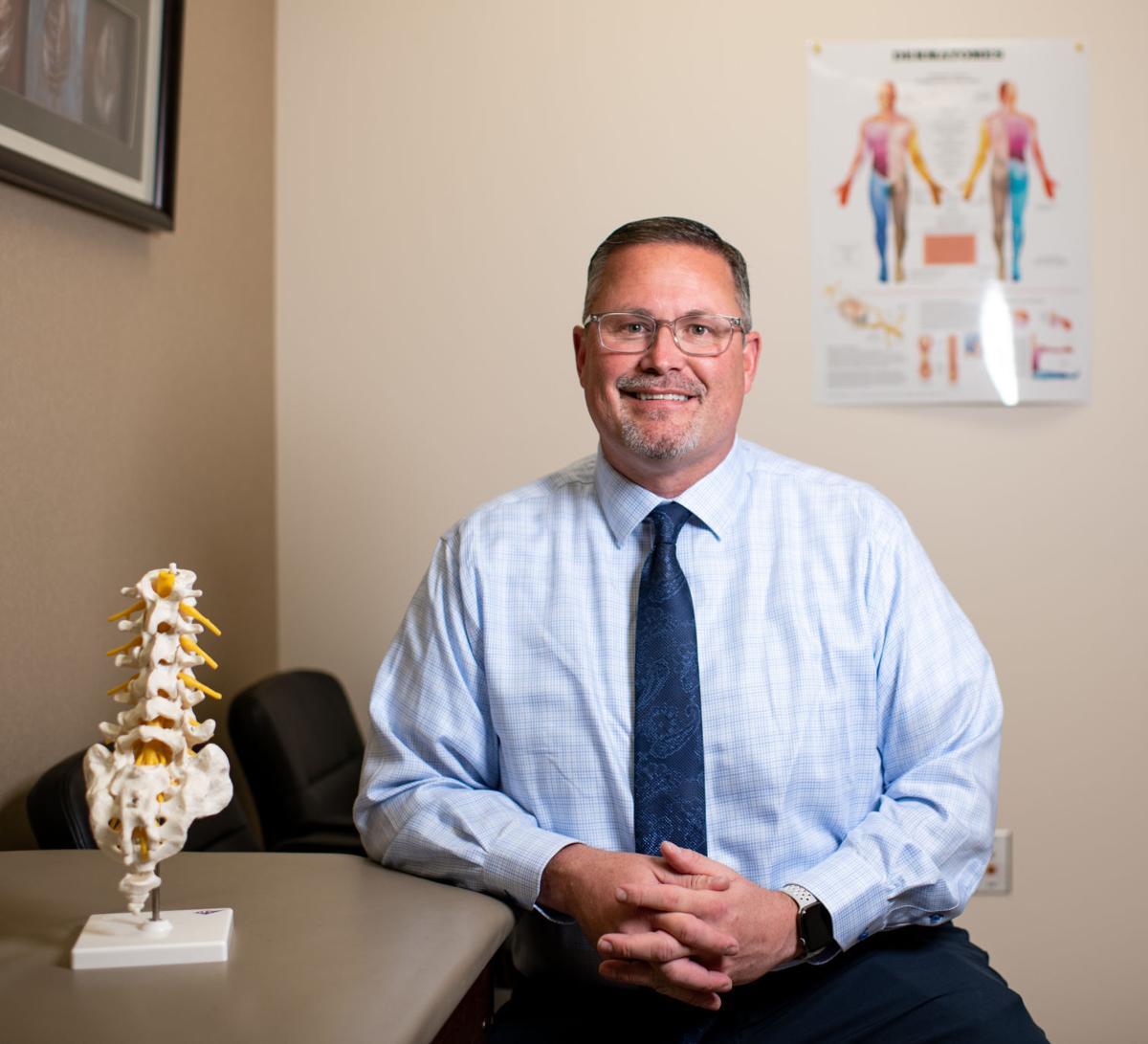 DAKOTA DUNES -- For a period of about 20 years, much of the chronic and acute pain suffered by Americans was treated by opioid painkillers. It was during this time that pain became the so-called "fifth vital sign," alongside pulse, temperature, respiration rate and blood pressure. 
But in the last decade, public health officials and lawmakers became aware of the staggering rise of opioid abuse and overdoses. Family physicians and dentists became ever-more parsimonious with these narcotics, which are in the same drug family as morphine, opium and heroin. 
According to data from the Centers for Disease Control and Prevention, the volume of opioid prescriptions in the U.S. began to fall, for the first time in years, in 2013. Between 2012 and 2017, opioid prescriptions declined roughly 28 percent. The American Medical Association reported an even steeper drop-off -- a 37.1 percent slump in opioid prescriptions between 2014 and and 2019. 
But physicians still had patients in pain even as the Drug Enforcement Agency began keeping a closer eye on their prescription pads. American medical practice tends to treat pain more vigorously than in other countries, where pain is often viewed in a different light by physicians. 
So, more and more, doctors have been referring patients to pain specialists, whose arsenal of pain-management therapies is far more diverse (and often quite a bit more cutting-edge) than the simpler solution of pills.
In the Sioux City metro, physicians often refer patients to the Dunes Pain Specialists, a group of five anesthesiologists who operate out of more than a dozen locations in the tri-state region, plus their main branch in Dakota Dunes. 
"We have had a huge influx of referrals from family practice doctors, not only for interventional procedures, but also just to manage patients who are on chronic pain medications who need to be closely monitored," said Dr. Jeremy Poulsen, an anesthesiologist with Dunes Pain Specialists. 
Poulsen described opioid painkillers as "a really big help for a lot of people in their quality of life," but added that "the actions of a relative few have led us to a point where we're in the situation where we are with the opioid crisis today." 
"I think (the opioid epidemic) has given us the opportunity to expand our toolbox if you will, and we've been able to add some arrows to our quiver," he added. "It's forced us to really dive into the literature and find other combinations of medications that have proven noteworthy in the past."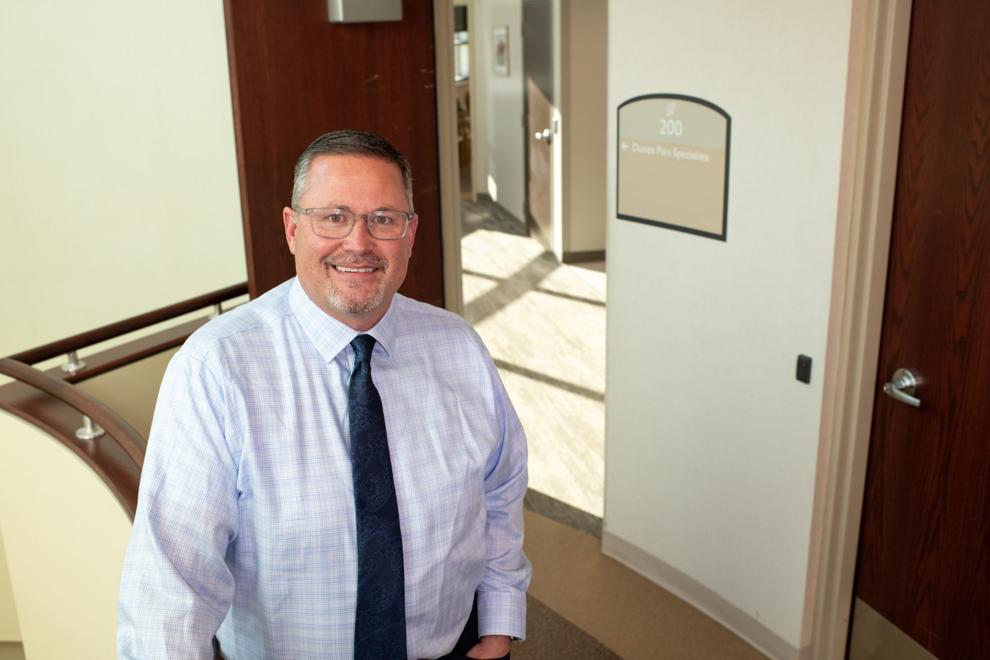 Poulsen rattled off a list of unfamiliar words when describing the non-pill pain-management options at Dunes Pain Specialists. Other terms he used are more familiar, but generally understood in other contexts. 
There's the epidural flood, lumbar-facet injections, intra-articular injections, KT taping, alpha-stim treatments, cannabis. (They can prescribe opioids, but they're very rigorous about monitoring for any irregularities or red flags.) 
If these or other treatments don't help, "the next step is a surgeon, whether that be an orthopedic surgeon, a spine surgeon." 
Much of Poulsen's and his colleagues' work is in treating back pain, including neck pains, and nerve pain (known in the field as radiculopathy). These pains are often associated with age and/or injuries at work or other injuries, which can be the root of both chronic and acute pain. 
"We live much older now than our ancestors did and previous generations did, and so, as we get older, our bodies -- are put through more, that much longer," Poulsen said. "I'll have an 80- or 90-year-old come in, and I'll look at their MRI and wonder how on earth they're walking, just because of how the MRI looks. And I think it's a testament to how our bodies adapt as we do degenerate and we do get older." 
Of the treatments mentioned by Poulsen, none raises more eyebrows or piques the curiosity more than cannabis. But as a scientifically recognized treatment for pain, cannabis remains in its infancy -- scripts commonly don't denote what sort of cannabis product to take or how frequently, which is unheard-of with other prescriptions. 
The efficacity of cannabis -- whether it's on par with aspirin or a pain savior nonpareil -- is a matter of ongoing research and debate in Poulsen's field. Partly that's because cannabis, like pain itself, is a notoriously subjective experience: what may be a panacea for some is a bad trip for others, or somewhat helpful, or hardly noticeable, or none of the above.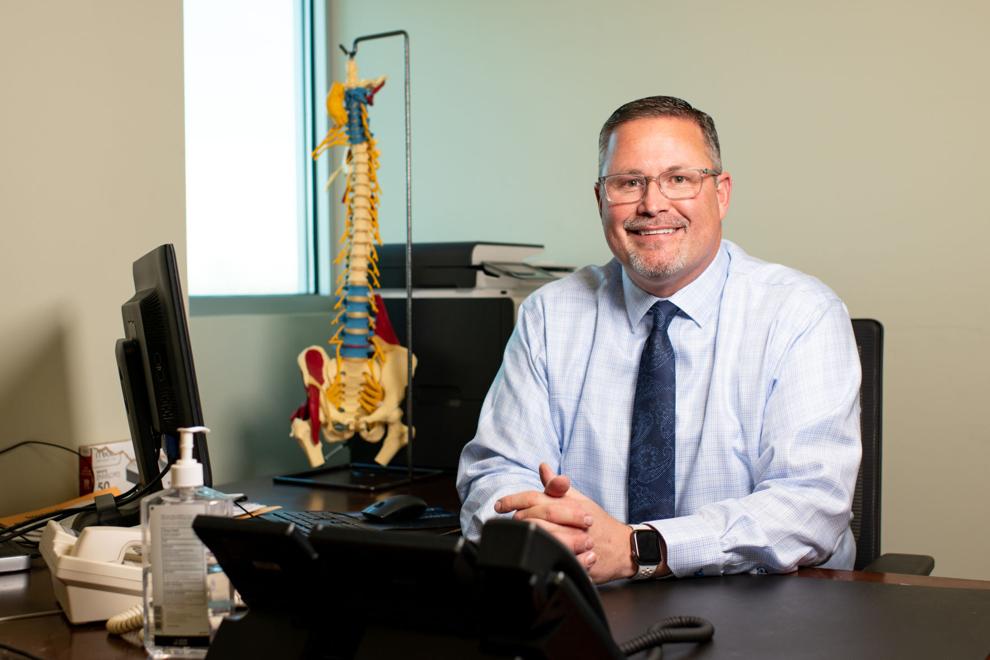 "You'll ask 20 different and get a very wide spectrum of responses," Poulsen said. "Some people will say it's amazing, other people will say it's the worst thing ever. Others will say it helped, but not much. Other people say it causes them to be paranoid. It's similar to when you ask people if Tylenol helps." 
While Poulsen described cannabis as primarily a supplement to other treatments, it's reasonable to assume that his office will be fielding a good many inquiries from patients about cannabis now that South Dakota has legalized it completely while neighboring Iowa allows it for medical use. 
"When it first came out, I think that people thought it was going to be the Holy Grail. Obviously that hasn't been the case, and so I think it's important that people put it within the confines it deserves, and that is as an adjunct to the treatment and not a sole option of pain-management," Poulsen said.