SIOUX CITY -- Nearly four years ago, the new owners of a mid-century modern home on Sioux City's north side began the restoration and remodeling process, which touched every room. 
The couple, who appreciate good design and quality pieces, reached out to Amy Macfarlane, owner of Lifestyles Interior Design, to give their home that "one-of-a-kind feel" they were hoping for. 
"I chose the pieces and color scheme for our home and we were pleased with the results, however, I knew I needed true professional assistance to finish and polish our home," one of the homeowners said, while standing on a circular, blue-green rug by her kitchen table as light poured through sliding glass doors.
Going in, Macfarlane said she felt like she already knew the home, because she just so happens to live in a house that was also built by Sioux City Foundry. One of Sioux City's oldest businesses, Sioux City Foundry is owned by the Galinsky family.
"She said, 'I want you to make everything look completed,'" Macfarlane recalled of one of the homeowners. "I breathe new life into home spaces. That's basically what we did."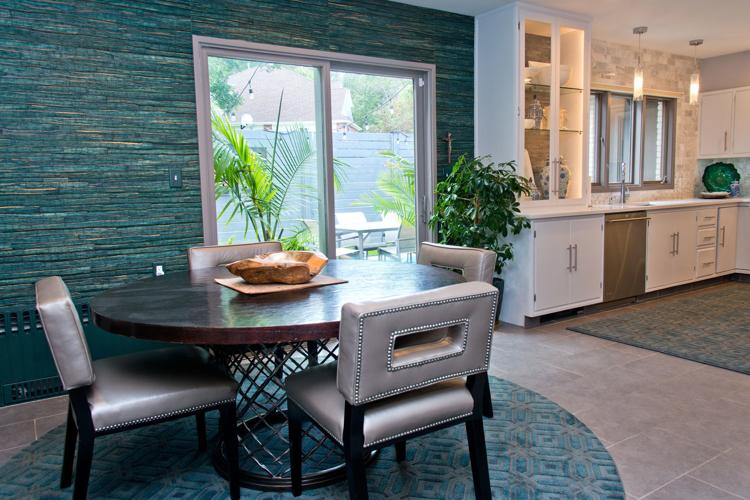 Macfarlane found a woven, bamboo wall covering with shades of blue and green that tied in two blue-green rugs that the homeowners already had. Placing it on a wall by the kitchen table, she said, defined the eating area and pulled in the kitchen.
"Greens are really trending right now," Macfarlane said. "She had these rugs that look great, but there was nothing that they attached to. It's about just giving it that designer detail. It's a lot of re-accessorizing."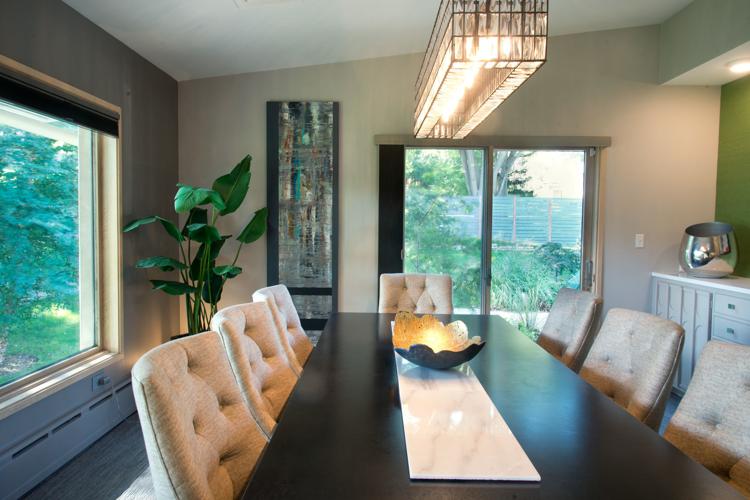 Macfarlane introduced the homeowners to local artists Frank Salazar and Rick Baker. They loved their sculptures and paintings so much, they ended up purchasing roughly 30 artworks, which are scattered throughout the home.
Some of the paintings were customized to match the neutral walls, according to Macfarlane.
"They came in and they created art for every space that I needed it, which was pretty amazing," one of the homeowners said. 
A long, vertical abstract painting by Salazar has hints of green that draw the eye from the living area to the dining room, where a vessel by Baker rests on the table.
"Every room should have something that you look at it, and your thought is, 'That's really unexpected,'" Macfarlane said. "You want something unexpected."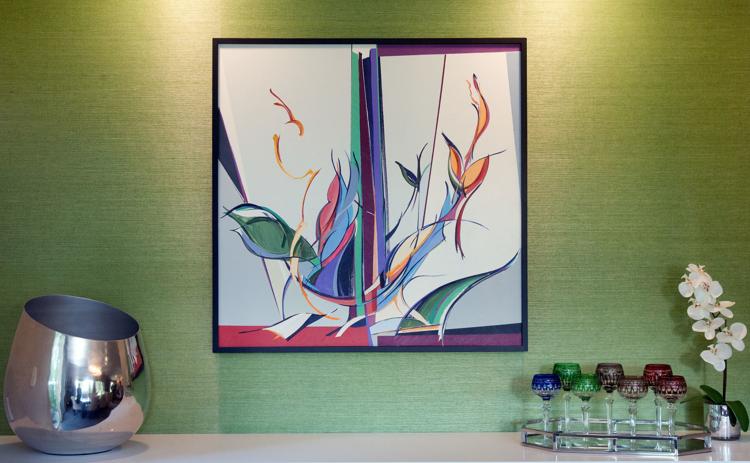 Other green accent pieces in the living room include an existing vase and pear trim that Macfarlane had sewn on one of the homeowners' neutral pillows. These hints of color stand out among the neutral furnishings.
"In my opinion, you want the eye to always continue roaming and to have this cohesiveness. It's nice when you have a common color throughout the house," said Macfarlane, who said you can use various shades of a color in a room, rather than repeating the exact same one. 
A dining room wall was gray, before Macfarlane placed a green manila hemp wall covering on it. The wall covering, which adds texture, as well as color to the space, serves as the perfect backdrop for an abstract painting by artist Ann Royer, a Sioux City native.
You have free articles remaining.
"Texture is equally as important as color," she said. "You don't have to spend a lot to get big impact."
Macfarlane suggests taking a picture of a room in your home. She said it will allow you to see the space as someone who comes into your home would.
She said you'll notice things that you otherwise wouldn't.
She said one of the biggest mistakes people make is buying furniture that is either too big or too small for a room.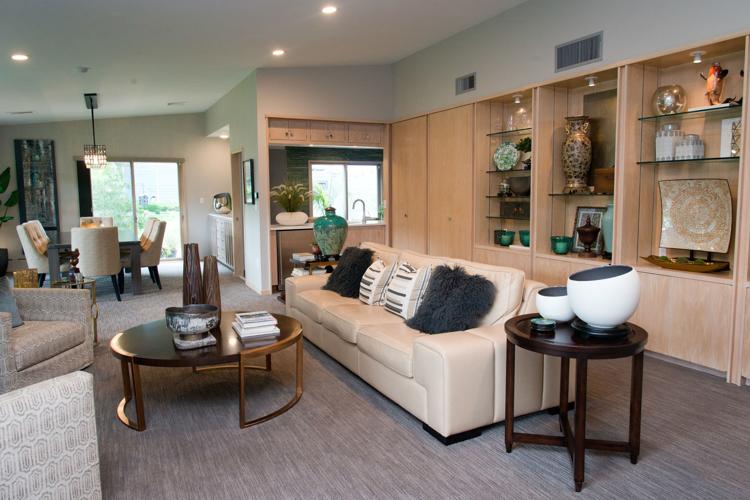 The homeowners had an Asian garden stool plopped between two chairs. Macfarlane moved it into a corner of the room by an end table and a plant.
"It just made the blue and the green with that plant come alive," Macfarlane said. "You don't have to get rid of stuff. It's really easy, sometimes, to take something that you really don't like and then you like it, because you make it work in the room."
The homeowners knew something wasn't working in the home's entryway. Macfarlane said painting a white wall gray made all the difference.
"It's really easy to freshen something up," she said.
In the basement entertainment room, the homeowners selected a pool table with aqua blue cloth, which is the same color as their adjacent indoor pool.
Macfarlane came across a wall covering in a magazine with similar blues and a vertical linear pattern that reminded her of pool sticks. Instead of covering an entire wall behind the pool table with the paper, she decided to frame a large piece instead.
"This was a big investment. Wall coverings are back, but they're ridiculously expensive," she said. "I said, 'Let's just make it look like a mural and frame it.' So that's what we did."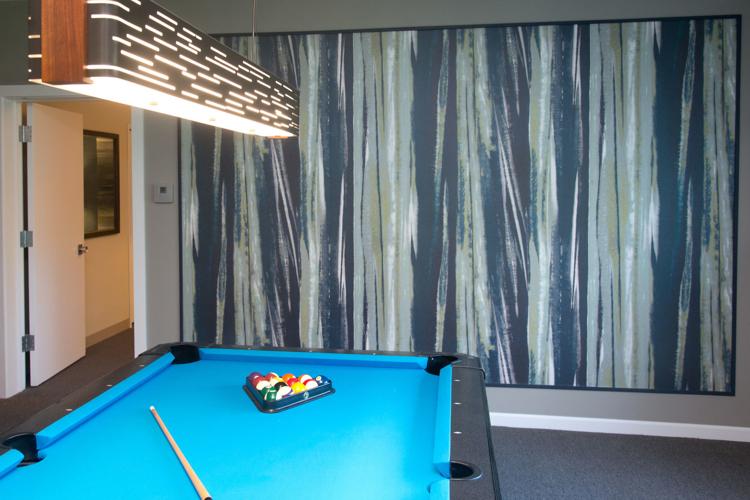 Macfarlane used fabric that coordinates with the wall covering to have custom pillows made for a blue gray sectional on the other side of the large room. Instead of placing the sectional flat against the wall, Macfarlane pulled it out and requested that a glass shelf, which lights up, be placed behind it. The devil's in the details.
"When she picked that particular blue, that just raised the level and it just all fell into place," Macfarlane said of one of the homeowners.
The homeowner interjected, "It didn't just fall into place. You made it work."