SIOUX CITY -- Some COVID-19 vaccine trial participants in the Sioux City metro this past year were party to an unusual distinction.
Enough of them were infected during the course of the trials (those who received placebos were far more likely to contract the virus than those who received a real vaccine) that the Meridian Clinical Research site here was among the top five trial locations in terms of how many subjects were infected during the course of the study. Sioux City became a site of intense interest from vaccine developers. 
Perhaps it comes as no surprise. Hundreds of vaccine-trial participants were enrolled here as Woodbury County suffered a tragic outbreak, in which more than 12 percent of the county's residents became infected, a per-capita infection rate roughly double the national average. (These figures do not take into account those whose infections went undiagnosed and unreported.)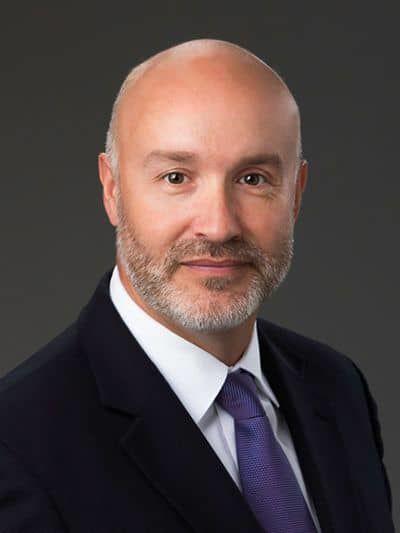 "There was a lot of focus from the sponsors on that site because of how many ill patients unfortunately they had there, but that meant the site had to do a lot of work and the subjects had to do a lot of work, when they did have an illness," said Dr. Brandon Essink, a Meridian vaccine investigator who works in Omaha and oversees several Meridian sites. 
Meridian Clinical Research, the drug research firm with an office in Sioux City (formerly Dakota Dunes) sprung into prominence last year when they rolled out trials of coronavirus vaccines. Two of the most prominent vaccines, made by Moderna and Pfizer, were tested in the Sioux City metro. Both those vaccines were found to be highly effective at preventing infection and serious illness. 
Jessica "Jessy" Stultz of Sioux City took part in the Moderna vaccine trial at Meridian last summer. She was excited for the opportunity to be vaccinated, to be part of the solution. 
But, as it turned out, she received a placebo. In November she came down with the coronavirus, one of hundreds who were infected in the Sioux City metro during the frightening surge that month.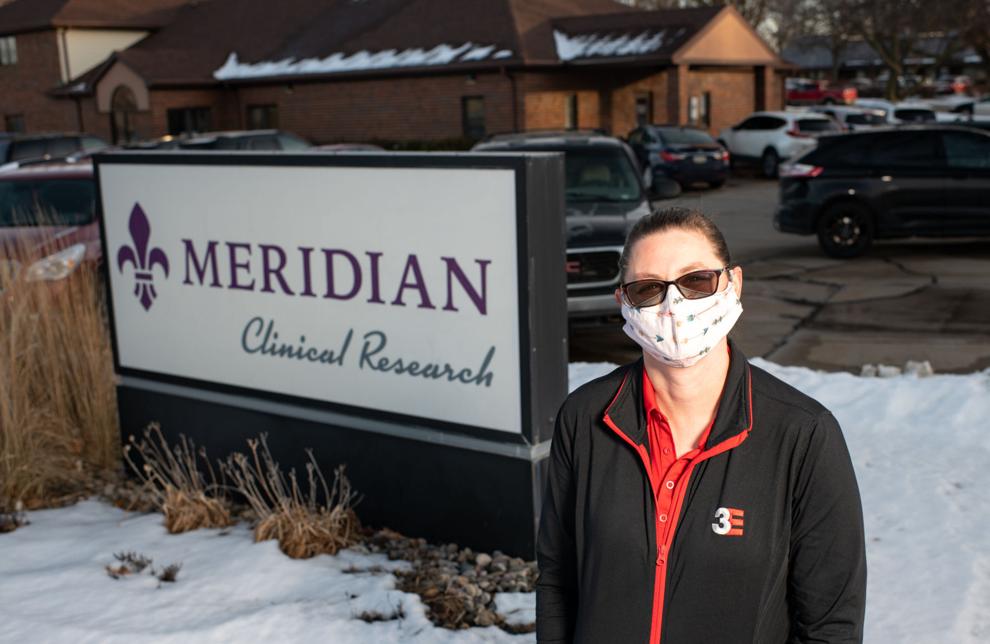 "I don't think I did (get the vaccine) because I did end up with COVID right before Thanksgiving," said Stultz.
Dr. Lawrence "Larry" Volz, the chief medical officer at MercyOne Siouxland Medical Center, took part in the Moderna trial this summer, for much the same reasons as Stultz. 
"Sioux City, we got hit pretty hard, and in my position it takes up about 80 percent of each day of mine, is dealing with COVID anymore," Volz said. "So, really just trying to be the solution. I knew that we weren't going to get beyond this without a vaccine. 
"I think, sort of as a leader in that community, I think I needed to show that I wasn't afraid to get the vaccine. And so I could tell people, 'Hey, I believe in this, I was part of the trial!'" he added. 
His syringe was full of placebo and, like Stultz, he got the coronavirus in November. 
"I'd gotten antibodies checked after I got the vaccine, and I did not have antibodies, so I pretty much knew I'd gotten a placebo," Volz said. "And then actually got COVID kind of early thereafter." 
Being front-line medical worker, Volz was one of the earliest people in Sioux City to receive a COVID-19 vaccine this winter. Stultz, meanwhile, was anticipating getting the vaccine in mid-January through Moderna, as it "unblinded" its trial participants and gave those who'd received placebo the opportunity to receive a vaccine. 
Both the Moderna and Pfizer vaccines received emergency use authorization from the FDA, even though clinical trials were not yet completed, because of the threat posed by the coronavirus. "The study's not over. And I keep saying that over and over, if these EUAs get approved, the studies aren't over, in fact they're reaching the most critical phases right now, which is making sure that the long-term safety is there," Essink said. 
Volz and Stultz have both run into people who express uncertainty about the vaccine. Those fears sometimes include elements of social-media posts (the idea that the vaccine could implant a microchip or cause infertility) or more generalized anxiety about a vaccine that was developed so quickly. 
"I have conversations with people who are reluctant to get the vaccine. And we're not trying to force people to get it, but we just want to make sure they're making informed decisions about the vaccine, and that they're not just following social media stories about the microchip and the infertility stories," Volz said.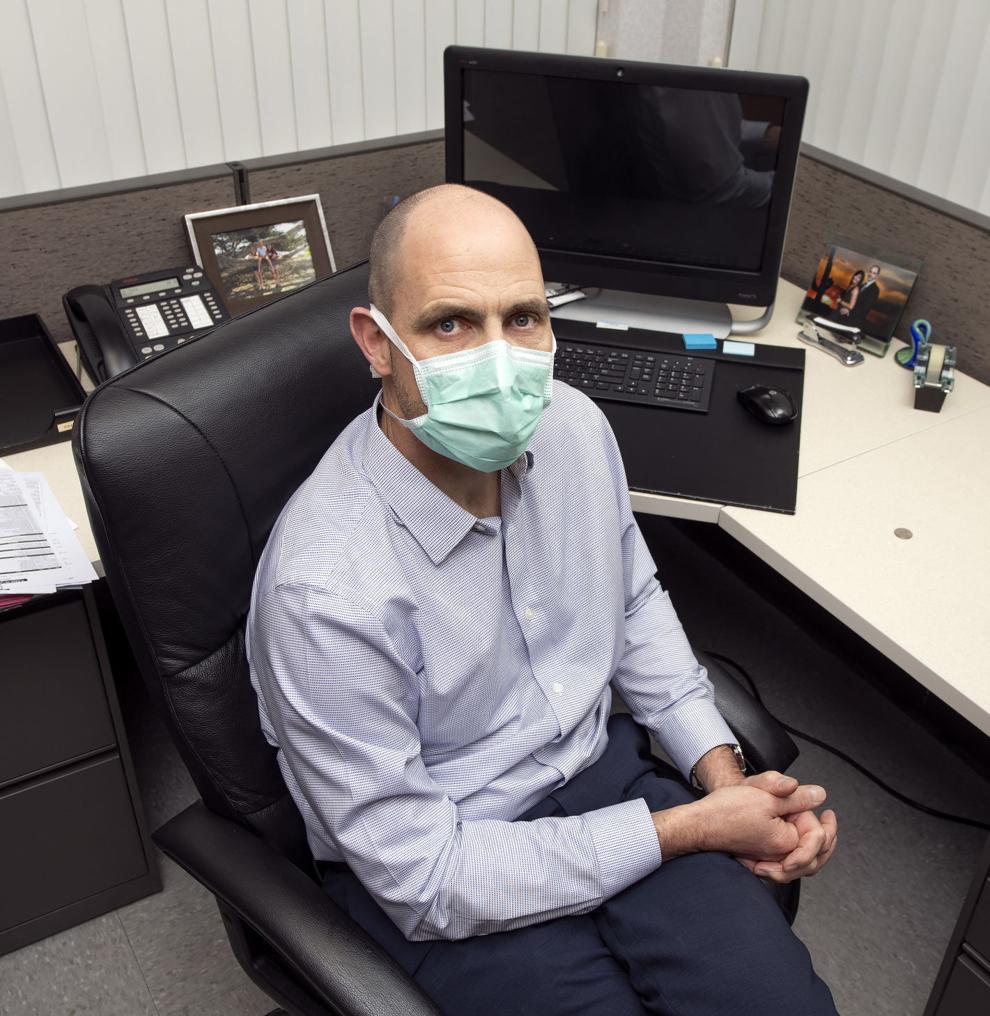 "If there's anything we can do, let's do it. Why would you not do it, to make the world, Iowa, the U.S.A., safer for everybody?" Stultz said. "There's always a risk, with everything. Any new medication, any new vaccine, there's going to be people saying this and that. But again, do you want to walk around in fear constantly? Why would you not try to do something?" 
Interest remains strong in the vaccine trials, Essink said, despite the fact that the vaccine rollout has begun, partly because many people won't be eligible for vaccination for an indeterminate amount of time. He predicted that healthcare workers may not be participating much in future vaccine studies, because they're among the few who have early access to the vaccine. 
"I do think as we get further along with more people can meet the criteria for the vaccines, it's going to be a little bit tougher (to enlist participants), but there's still a very limited supply that's available for distribution,"  Essink said.